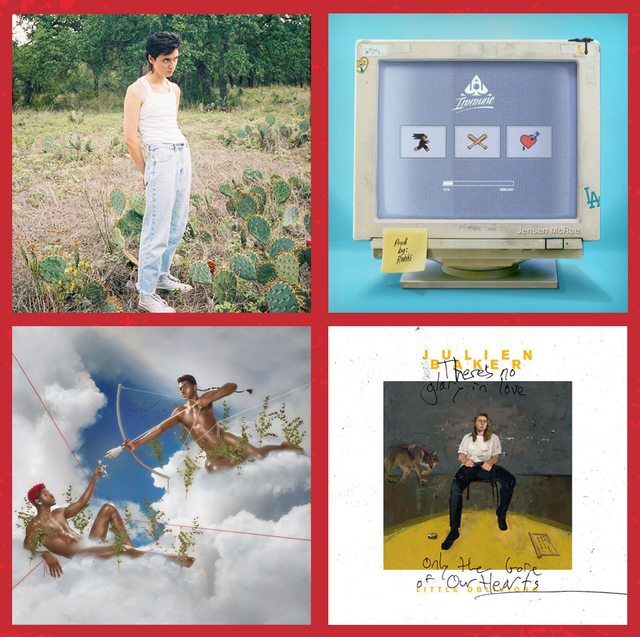 Photo Illustration by Men's Health
In a era where immediacy is king–news may be refreshed with the present time and the hottest happens are often the quickest–it's wonderful to have music. Music (or great audio ) takes time to create, produce, package, and release. Which means that a number of the records that have come out in 2021 (so far) were albums made inside the confines of the Covid-19 pandemic.
What we are hearing today are songs from records that were hatched and orchestrated amidst the panic, the chaos, the despair, and the confusion. And musicians have processed the pandemic in various ways. Many have stripped down their sound and made spare, haunting albums. Others have turned the out-of-control 18-wheeler which has been residing in 2020 into audio that is raw and LOUD.
So audio, in its own latency, is a gift: Music is processing the cluster of last year as we are processing the bunch of last year. Which, in turn, help us process. Elton John once said, "Music has healing power. It has the ability to take people out of themselves for a few hours," and that man certainly knows what he's referring to .
All that said (can you tell we're feeling reflective?) Even when you're feeling done with Covid-19, or you just use music to escape having to take care of Covid-19, this playlist of 21 songs is awesome no matter.
Listen to our complete Best Songs of 2021 playlist on Spotify.
"Snow Day" by Shame
London is awash in circles recapturing the romantic distress of sprechgesang, or"spoken signing," which is both unnerving and enthralling. Unfamiliar with this genre? Let Shame's frontman Charlie Steen to introduce you in this five-minute primer.
"MONTERO (Call Me By Your Name)" by Lil Nas X
We're not talking about the incredible video. We are not speaking about the viral Satan Shoes. We are talking about the song, which contains one of the most potent hooks of the last decade. With this course, Lil Nas X continues his streak of pissing off all the ideal people and cementing himself as the closest thing 2021 has to some bonafide rockstar.
"Cool Dry Place" by Katy Kirby
The Texan singer-songwriter is largely soft-spoken and soft-strummed, until she is not, which makes the construction high with this slow-burner so much higher.
"BUZZCUT" by Brockhampton feat. Danny Brown
The Best Boy Band Since One Direction teams up with Danny Brown. Chaos ensues. We're all the better for it.
"6 Shooter" by Viagra Boys
Legend has it that this Swedish post-punk ring shaped following a night out drinking and some Mariah Carey karaoke. This start-and-stop burst of pure audio like these hazy, fitful, and fantastic moments that occur right around last call.
"Price of Blue" by Flock of Dimes
All hail Jenn Wasner. When it's as one half of Baltimore fantasy pop combo Wye Oak or her solo project Flock of Dimes, Wasner's songs take their own time, fully enveloping you into reverb-drenched vocals and soaring electric guitars. In the first fuzzy riff to the final staticky feedback breakdown,"Price of Blue" is immersive and heavy, delivering a standout track in an album with zero skips.
"Hour of the Wolf" by Tribulation
The Swedish goth metal band has resurfaced from 2018's subterranean-themed album, Down Below, to fill this anthem with Megadeath-ian riffs, brutal drumming, and vocals that tear in your soul.
"Immune" by Jensen McRae
"What will we say to each other when the needle goes in?" What began as a Phoebe Bridgers parody on Twitter is now the ultimate vaccination anthem. If your feelings about transitioning to a"new normal" are complicated, McCrae's post-quar love tune will surely resonate.
"All Bidness" from Tha God Fahim & Your Old Droog
Droog, from NYC, and Fahim, from ATL, unite biting bars and smooooooth beats with this notion EP. "All Bidness," in all its horn-swaying and spareness, sets a tone.
"Thumbs" by Lucy Dacus
True Lucy Dacus heads happen to be (impatiently) awaiting a recorded version of the understated-yet-intense murder ballad since Dacus began playing it live on tour pre-pandemic. The studio model meets those lofty expectations, with Dacus deftly controlling the tension as she delivers each poignant line.
"Last Train Home" by John Mayer
John Mayer's spent the last few years touring with Grateful Dead offshoot Dead & Company and it's clear that experience has rubbed off on his solo work. However, this tune feels less inspired by the scraggly jam rock of the'70s Dead and more akin to their"Touch of Grey" era, with arena rock synths and a vocal assist at the end from top-tier belter Maren Morris.
"Sunglasses" by Black Road, New Country
Over the course of nine-plus minutes, Isaac Wood name-checks the Nutribullet, The Fonz, Richard Hell, and Kanye. It's horn-blasted, sarcasm-dripping, wheel-falling-apart, beautiful mess.
"Hardline" by Julien Baker
Julien Baker writes lyrics that make you want to get a tattoo. Her latest album is louder and bolder than her prior records, but it's no less sincere, vulnerable, or brave in its approach. This track, like all the best Julien Baker tunes, is a gut-punch.
"White Elephant" by Nick Cave & Warren Ellis
While the two musicians have worked on numerous soundtracks together (The Assassination of Jesse James by the Coward Robert Ford, for one), Carnage is the duo's first album album. "White Elephant" is loaded with Cave's trademark imagery and sneer. Set to the sparse-then-sweeping backdrop of Ellis' arrangement, all you can do is hold on to your ride.